A monomer healing agent is stored in microcapsules and when released mixes with a chemical catalyst to produce a crosslinked polymer.
First generation system
Ruthenium-based Grubbs' catalyst initiates ring-opening metathesis polymerization (ROMP) of dicyclopentadiene (DCPD).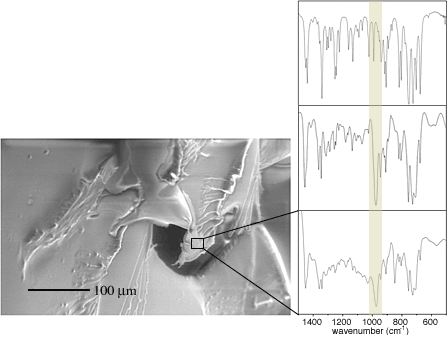 Environmental ESEM micrograph and infrared analyses. IR spectra correspond to neat DCPD (top), an authentic sample of poly(DCPD) prepared with Grubbs' catalyst and DCPD monomer (middle), and poly(DCPD) film formed at the healed interface (bottom). The highlighted peak at 965 cm-1 is characteristic of trans double bonds of ring-opened poly(DCPD).
The figures and legends are taken from our publication in the Feb. 15, 2001 issue of Nature.