Mechanics Meets Chemistry - New Way to Manipulate Matter
Links to our publication in the March 22, 2007, issue of Nature
Background, interpretation, and significance

Electrocyclic ring closing reactions are molecular rearrangements in which a cyclic structure is formed from a linear π system. Specifically, a new single bond is generated between the termini of the π system, and the product has two fewer π electrons. The converse process is known as electrocyclic ring opening. More...
Art






Video and Animation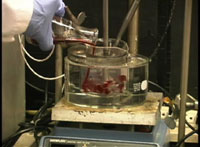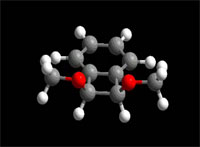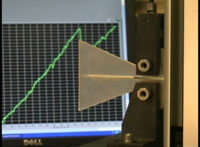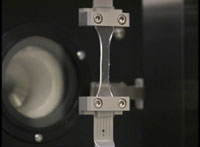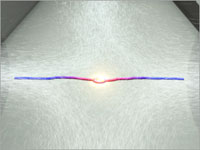 Reference
Charles R. Hickenboth, Jeffrey S. Moore, Scott R. White,
Nancy R. Sottos, Jerome Baudry, Scott R. Wilson
"Biasing reaction pathways with mechanical force"
Nature, 446, 2007, pp. 423-427.
Acknowledgements
This work was supported by grants from the Air Force Office of Scientific Research and The Petroleum Research Fund.